The second bag featured today is a very interesting tote which can be used as a knitting gig bag or for anything else that you need to tote around. It's put together via joining 14 knitted strips together. From designer Barbara Venishnick, it uses both a cable stitch and a crochet join for the knitted strips.
If you are not interested in doing the crochet join, there are a few knitted alternatives for us non-hookers.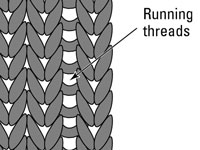 Mattress stitch


From Vogue Knitting, MANY types of joins, including a few invisible ones!
View the original article here